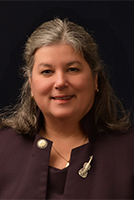 Carrie Woerner was elected to the New York State Assembly in November 2014 while serving as vice president and general manager of MeetMax Conference Software, a division of The Wall Street Transcript. She established the software division in Saratoga Springs in 2008, creating new, quality jobs in Saratoga County.
Woerner earned her undergraduate degree from Carnegie-Mellon University in Pittsburgh, Pennsylvania and her MBA from Santa Clara University in Santa Clara, California. She began her successful 30-year career in software and technical writing working at firms such as Dell/Perot Systems and IBM.
In the Assembly, Woerner has continued to advocate for responsible spending and is focused on improving the business climate for small businesses and farms, strengthening public schools and protecting the traditions, heritage and culture of Saratoga and Washington counties.
Woerner is the chair of the Subcommittee on Agricultural Production & Technology and a member of the Assembly's Agriculture, Local Governments, Racing and Wagering, Small Business and Tourism, Parks, Arts and Sports Development committees, as well as a member of the Legislative Women's Caucus.
During her first year in office, Woerner authored seven pieces of legislation that were passed by both the Senate and the Assembly, including five bills that were signed into law by the Governor. These included a law to allow the Ballston Spa Central School District to establish a semiconductor manufacturing tax stabilization reserve fund (Ch. 506 of 2015), and a law enabling Saratoga Harness Racing to continue receiving regional payments from Capital Region Off-Track Betting (Ch. 300 of 2015).
Prior to her election to the New York State Legislature, she served as Round Lake Village Trustee in 2008, 2010 and 2012. As a local official, she was a champion of fiscal responsibility and worked to control spending and reduce the tax burden on Round Lake residents each year in office. She also served as an appointed member on the Town of Malta Planning Board from 2008-2014.
From 2002-2008, she served as executive director of the Saratoga Springs Preservation Foundation in which she expanded membership and donations, published a walking tour guidebook, raised funds to restore the First Baptist Church and secured a $130,000 state grant to restore historic buildings in the Beekman Street Arts District. She founded the Historic Saratoga Race Track Preservation Coalition and successfully advocated for preservation protection in the 2008 legislation related to racing in New York State.
Carrie Woerner is currently a member of the Malta Sunrise Rotary and the Saratoga Arts Board of Directors.