Brook-Krasny Outlines First 100 Days in Office
April 26, 2023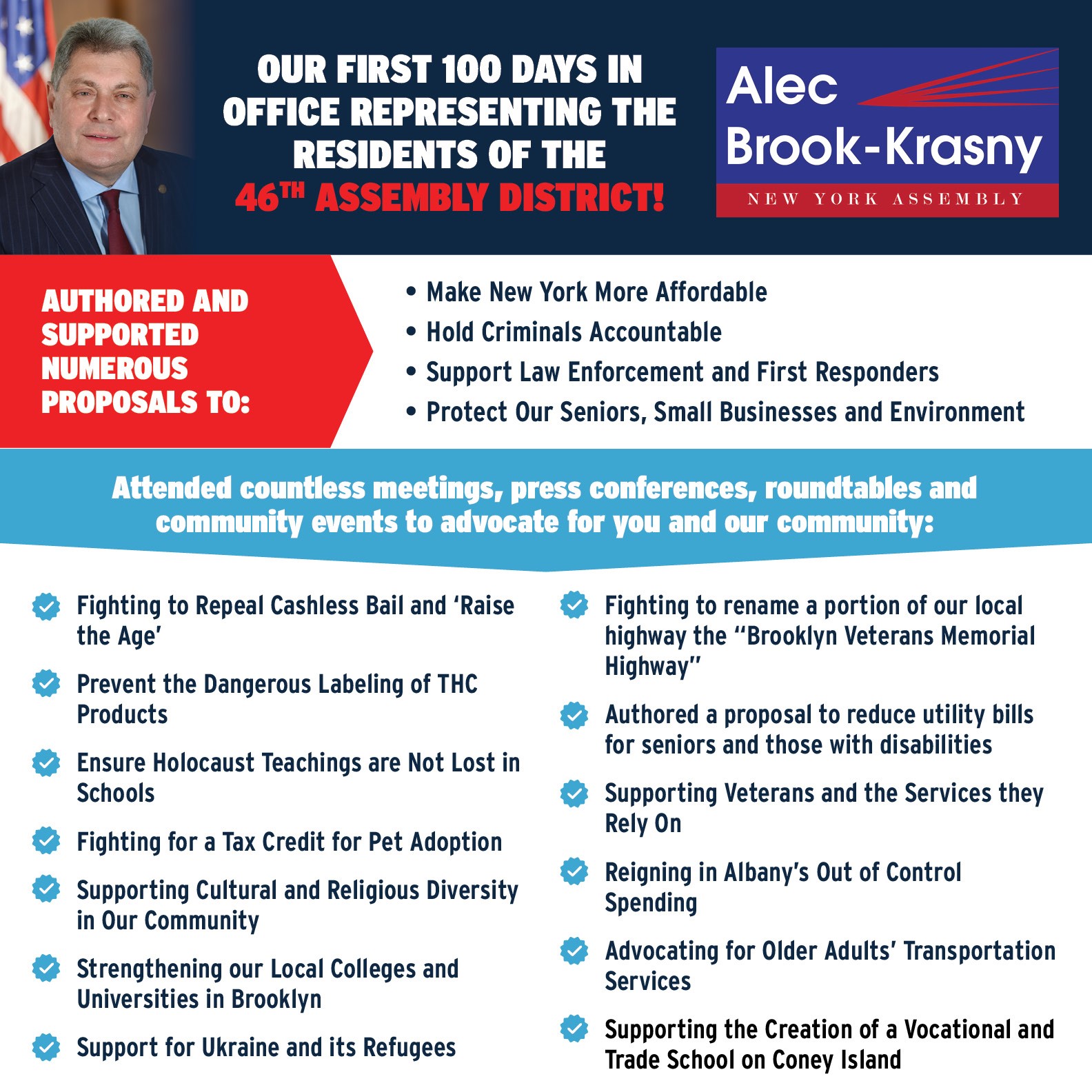 Today, Assemblyman Alec Brook-Krasny (R,C-Coney Island) outlined his first 100 days in office, which includes authoring, cosponsoring and supporting numerous proposals to make New York safer, more affordable, protect small businesses and support law enforcement.
In particular, Brook-Krasny has introduced legislation to prohibit utility companies from imposing additional fees for customers who are seniors and those with developmental disabilities and authored a bill to rename a portion of the local Kings County highway system the "Brooklyn Veterans Memorial Highway".
Brook-Krasny has attended countless meetings, roundtables and community events and written letters of support for senior-based transportation services, and supports strengthening Brooklyn's family of colleges and universities, creating a trade and vocational school on Coney Island, repealing dangerous cashless bail laws, preventing youth overdoses from THC products, controlling reckless state spending, supporting Ukraine and its refugees, protecting veterans and their services, and support the diverse cultural and religious centers in his community.
"It has been a distinct honor and privilege to return to public service and represent Southern Brooklyn in the State Assembly," Brook-Krasny said. "As the state budget hangs in the balance, there are many pressing issues facing our state including repealing dangerous cashless bail laws, reducing residents' utility bills, strengthening our public transit system and making our state more affordable. It's been rewarding and fulfilling to meet with so many of you, be your voice in Albany and celebrate countless new community ventures, volunteer organizations, recognize our brave law enforcement officers and fight for more opportunities for residents and their families here in Brooklyn."
A list of legislation sponsored by Assemblyman Brook-Krasny can be found here.