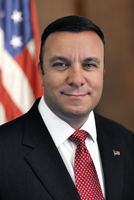 Karl Brabenec was elected to serve the constituents of the 98th Assembly District on November 4, 2014. The district includes parts of Orange and Rockland counties which include Deerpark, Port Jervis, Greenville, Minisink, Warwick, Monroe, Mount Hope, Goshen, Wawayanda, Tuxedo and Ramapo. He is currently the Minority Whip for the New York State Assembly and the ranking Minority member on the Assembly Labor Committee.
Brabenec is dedicated to improving the quality of life for his community by alleviating the crushing tax burden facing residents with smarter budget solutions and spending cuts. He recognizes the obstacles facing small businesses and family farms in New York and will fight to cut the senseless red-tape, regulations and taxes stifling job creation and business growth.
As the father of two children, he is dedicated to providing the necessary resources and tools needed for parents and teachers to offer a quality education for all students.
Brabenec has been active in the community, government, and politics since the age of 14. Previous to serving in the Assembly, Brabenec was Deerpark Town Supervisor from 2010 to 2014. He focused on common-sense principles to save taxpayer dollars, including improving the local business climate through zoning restriction reforms and by providing long-term financial planning and responsibility by saving reserve funds for future expenses.
Brabenec believes in governing with integrity, he reestablished the town's ethics committee and dramatically expanded communication and transparency in government. He was an assistant to former Orange County Executive Edward A. Diana, a member of the Deerpark Zoning Board of Appeals and later served as a Councilman on the Deerpark Town Board in 2008 to 2010 before being elected Town Supervisor.
Brabenec's community involvement includes being a former member of the Board of Directors for the Regional Economic Community Action Program, Inc., an associate member of the Orange County Shields, member of the Greenwood Lake Benevolent and Protective Order of Elks Lodge #2067, Association of the United States Army, Town of Deerpark Lion's Club, National Rifle Association, the Sons of the American Legion - Monroe Post #488, and the New York State Rifle and Pistol Association. He is also an honorary Major with the United States Air Force Auxiliary Civil Air Patrol.
Brabenec, the son of Czech refugees, was raised in Orange County and graduated from Minisink Valley High School in 1997. He earned his B.A. at Mount Saint Mary College and his M.P.A. from the John Jay College of Criminal Justice. Karl lives in Westbrookville and is the proud father of son, Karl and daughter, Kimberlee.