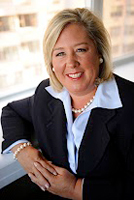 Rebecca A. Seawright represents the Upper East Side, Yorkville and Roosevelt Island in New York's 76th Assembly District. As the first woman to serve the district and since her election in 2014, she is known as a strong voice for over 133,000 constituents, securing $11.75 million in funding for public schools, senior centers, parks and non-profits.
Rebecca fights for our community through major environmental and sustainability initiatives such as her sponsorship of the Clean Waterways Fund, signed into law by the Governor. Rebecca is a leading advocate for affordable housing and cosponsored laws to abolish vacancy decontrol and restrict rent hikes.
Appointed by the Speaker in 2019 and 2020, she holds the leadership position of Secretary of the Majority conference. Nominated by her colleagues, she serves as a Director of the Legislative Women's Caucus and works with her colleagues as part of the Bipartisan Pro-Choice, Jewish, Environmental, and Gun Reform Legislative Caucuses. As a member of the Banking Committee; Codes Committee; Consumer Affairs and Protection Committee; Corporations, Authorities and Commissions Committee; Education Committee; and the Judiciary Committees, Seawright is motivated to protect her constituents' quality of life in our great State of New York.
In the Assembly Education Committee, she champions our public schools and helped obtain more than $1 billion in new state support. Rebecca has organized hundreds of community events supporting seniors, including rent freeze clinics, housing legal clinics, health and wellness forums, and organizing resource fairs. In response to the COVID19 pandemic, Rebecca co-sponsored emergency legislation that suspends rent payments for small business commercial tenants and certain mortgage payments due to COVID-19.
Seawright is a lifelong advocate for women. For the over 5 years she has been elected Seawright has co-sponsored 897 pieces of Legislation and sponsored 40 pieces of legislation. Her bills have been signed into law implementing a study on consumer financial literacy, requiring health insurance policies to include 3-D Mammography at no cost to the consumer; encouraging greater representation of women on corporate boards; and identifying how many policy-making positions are held by women in the New York State Government. Inspired to renew the movement for the federal Equal Rights Amendment to guarantee that our rights are anchored in our State and US Constitutions, she authored and passed an Equal Rights Amendment to our New York State Constitution.