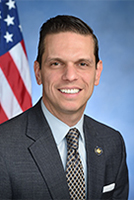 Angelo Santabarbara inspires family, friends and colleagues with his devotion to helping people and enriching his community. His parents were Italian immigrants who taught him that if he worked hard, success would follow. He is a first generation Italian-American born in the City of Schenectady. He is a lifelong resident of Schenectady County, currently residing in the Town of Rotterdam. He and his wife Jennifer are raising two children, their son Michael and daughter Marianna.
Angelo attended public schools in the City of Schenectady and in the Town of Rotterdam. He graduated from Schalmont High School in 1990 and was later inducted into the Schalmont High School Alumni Wall of Distinction. He earned a Bachelor of Science degree from SUNY Albany and is a licensed Professional Engineer. He worked in Civil Engineering for more than 15 years before taking office in the New York State Assembly. He also served as President of the Capital District Chapter New York State Society of Professional Engineers and on the Board of Directors for the Autism Society of the Greater Capital Region, Family and Child Service of Schenectady, and Cornell Cooperative Extension in Schenectady County.
Angelo served in the United States Army Reserve for eight years with an honorable discharge in 1998 and has remained involved with local veterans' service organizations. He is the founder of the first AMVETS Post in his hometown of Rotterdam and served as Post Commander from 2012-2015.
Angelo was elected to the Schenectady County Legislature in 2007 and re-elected in 2011, where he represented District 4, which includes the Towns of Rotterdam, Princetown and Duanesburg. He served as Chairman of the Transportation Committee and Vice Chairman of the Veterans Committee. He held public office as a Schenectady County Legislator for five years before being elected to the New York State Assembly in 2012 as the first Assemblyman to represent the newly created 111th District, which includes Montgomery County, and parts of Schenectady County. He was re-elected in 2014, 2016, 2018, 2020, and 2022. As a member of the New York State Assembly he serves as Chairman of the Sub-Committee on Autism Spectrum Disorders, Chair of the Commission on Rural Resources and as a member of the Agriculture, Energy, Governmental Employees, Mental Health, Racing & Wagering, and Veterans' Affairs Committees.