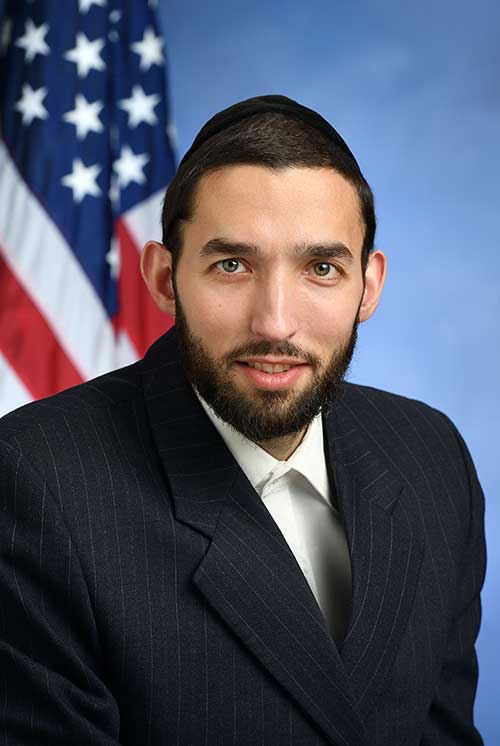 Assemblyman Simcha Eichenstein was elected on November 6, 2018, to represent New York's 48th Assembly District, which includes the neighborhoods of Borough Park and Midwood in Brooklyn.
Before his election, Simcha served on New York City Mayor Bill de Blasio's legislative affairs team in Albany, and as part of the mayor's senior Intergovernmental staff at City Hall. During this time, Simcha played a crucial role advocating for budgetary and legislative priorities vital to the City of New York in Albany, and was instrumental in helping craft and pass many pieces of legislation in the state legislature. Simcha's City Hall portfolio included the Department of Health and Mental Hygiene (DOHMH), Department for the Aging (DFTA), Department of Homeless Services (DHS), Human Resources Administration (HRA), NYC Health and Hospitals, Administration for Children's Services (ACS), Department of Youth and Community Development (DYCD), Department of Transportation (DOT), Taxi and Limousine Commission (TLC), and ThriveNYC, the nation's most comprehensive approach to mental health.
Before joining the mayor's team, Simcha served for four years as a senior aide to New York State Comptroller Thomas P. DiNapoli, where his responsibilities included working on intergovernmental affairs and a deep involvement with communities across New York State. Simcha is proud to have worked with many non-profit organizations and community groups in helping New Yorkers identify and reclaim funds owed through the state's unclaimed funds program. Simcha previously served as the political affairs director at a public relations firm, as a special assistant in the New York State legislature, and as a member of Brooklyn's Community Board 12.
Simcha is a graduate of New York's yeshiva system and a lifelong resident of Borough Park. Simcha and his wife, Pearl, are the proud parents of four children.