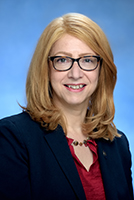 Assemblymember Linda B. Rosenthal represents the 67th Assembly district, which includes the Upper West Side and parts of Clinton/Hell's Kitchen in Manhattan. Elected in 2006 after serving for 13 years as Manhattan District Director and Director of Special Projects for United States Congressman Jerrold Nadler, Rosenthal succeeded then – Assemblymember, now New York City Comptroller Scott M. Stringer.
Since then, Assemblymember Rosenthal has passed more than 120 laws that have helped to improve the lives of all New York State residents. In previous sessions, Rosenthal has passed laws extending orders of protection to companion animals whose abuse often serves as a warning sign; requiring that applicants of public assistance be provided with information and resources for victims of sexual assault; allowing for same sex couples to adopt non-biological children together in New York State; and prohibiting the sale of electronic cigarettes to minors. In her tenure, Rosenthal has established herself as a leading advocate on affordable housing, domestic violence, consumer protection, government reform, environmental issues and animal cruelty.
Assemblymember Rosenthal received a B.A. in History from the University of Rochester. She is a life-long resident of the Upper West Side.
Chair, Committee on Social Services. Previous Chair, Committee on Alcoholism and Drug Abuse; Commission on Science and Technology; Mitchell-Lama Housing. Standing Committee Assignments: Agriculture;Codes, Housing; Health.